The Content Creator Platform That Pays.
Valued Voice is a fast, free, and easy platform where you earn money to place sponsored content on your blogs and social channels for our brands and advertisers.
You've built an audience. We'll help you

EARN

from it.
Discover how easy it is to earn with Valued Voice! We work behind the scenes with our advertisers to send you offers directly, so you can earn money with little time and effort required.
Accept jobs that resonate or pass on ones that don't, your choice! You'll receive a mix of exclusive offers at your chosen pre-set rates, and limited time opportunities that are up for grabs on a first come first serve basis.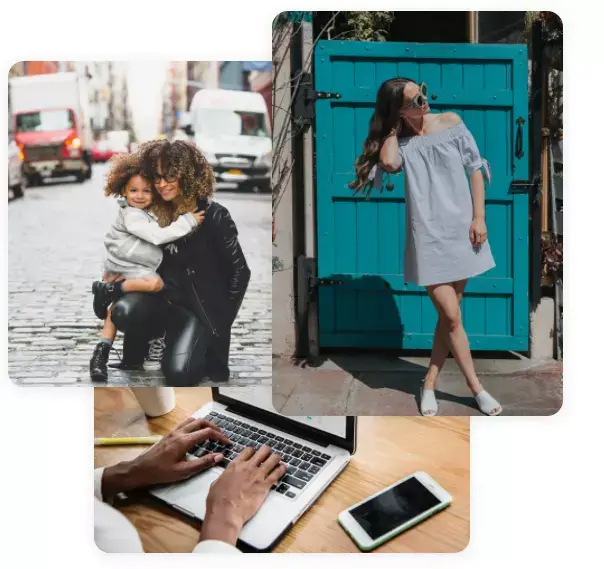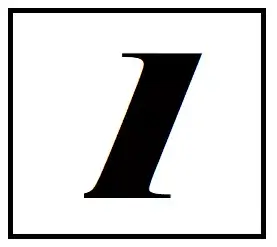 Create Account
submit your channels, set your rates, and get notified of jobs via dashboard and email alerts. then log in to review the opportunity details.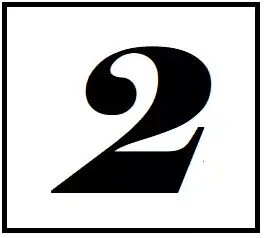 Get Offers
choose to accept or reject any job that comes your way! when you accept, simply place the content by the deadline.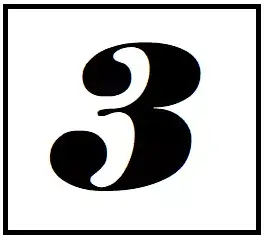 Get Paid
submit the link to your content. once reviewed and approved you will see earnings available for payout in your account!
Why Do Content Creators Choose Valued Voice?
Our platform empowers you to earn money with the audience you've built, on your terms.
There's so many reasons to earn with valued voice. Our platform provides the best experience so you can focus more time on what matters most to you!
Free Account
Start today for zero cost! Create your free account and start earning with nothing to lose!
Price Control
You set the price you need, we deliver. Also access limited time opportunities to maximize earnings
20 Job Types
Pick the types of opportunities you want to see based on the platforms you create on
Full Editorial Control
Only accept opportunities that resonate with you and create your own content or shape what we provide
Hassle Free
We'll handle the back and forth with the advertisers and bring you easy "accept or reject" jobs
Fast Payouts
Get paid on the 1st of every month, or as in as little as 72 hours after completing a job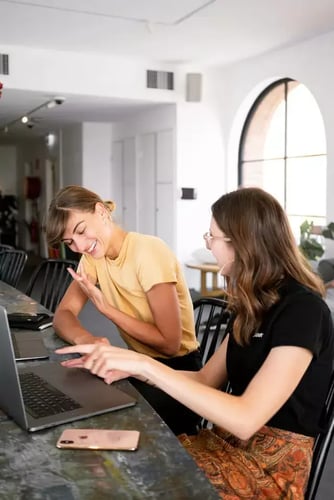 Join our thriving community of bloggers, creators, and influencers.
Earning with Valued Voice is easy.
Sign up for a free account today and we'll start pitching your platforms to our advertisers. You have so much to gain!
Our platform was designed to help content creators THRIVE

.

Discover how easy it is to use Valued Voice.
We've got an awesome platform that lets you view and manage all of your channels, opportunities, and earnings all in one place!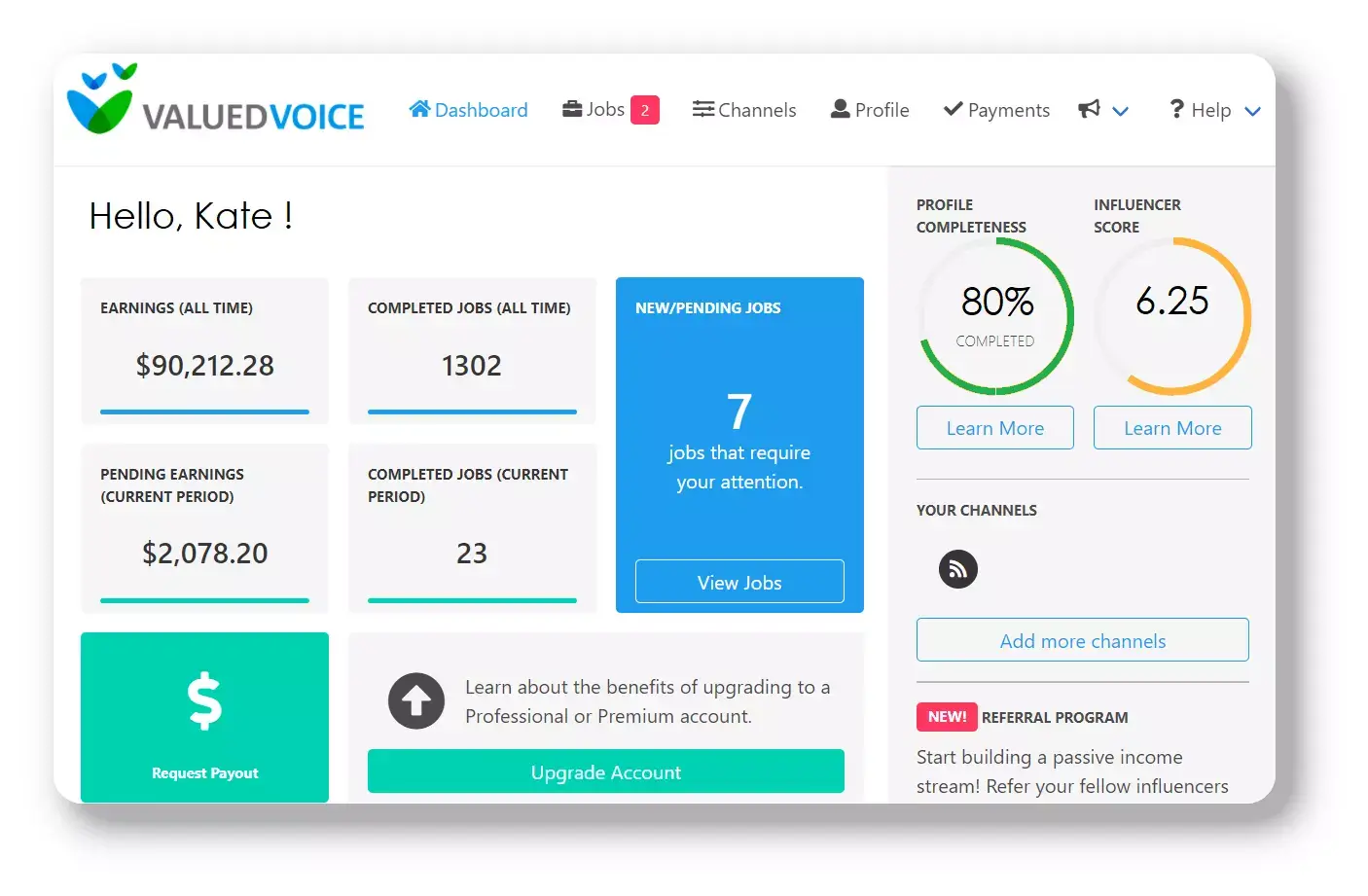 Account Dashboard
Stay up to date with your opportunities across all channels. You can track and manage all of your offers, completed tasks, and earnings right from your dashboard.
Profile Page
Complete a profile so our advertisers can get to know you, and we can match you up with the right opportunities.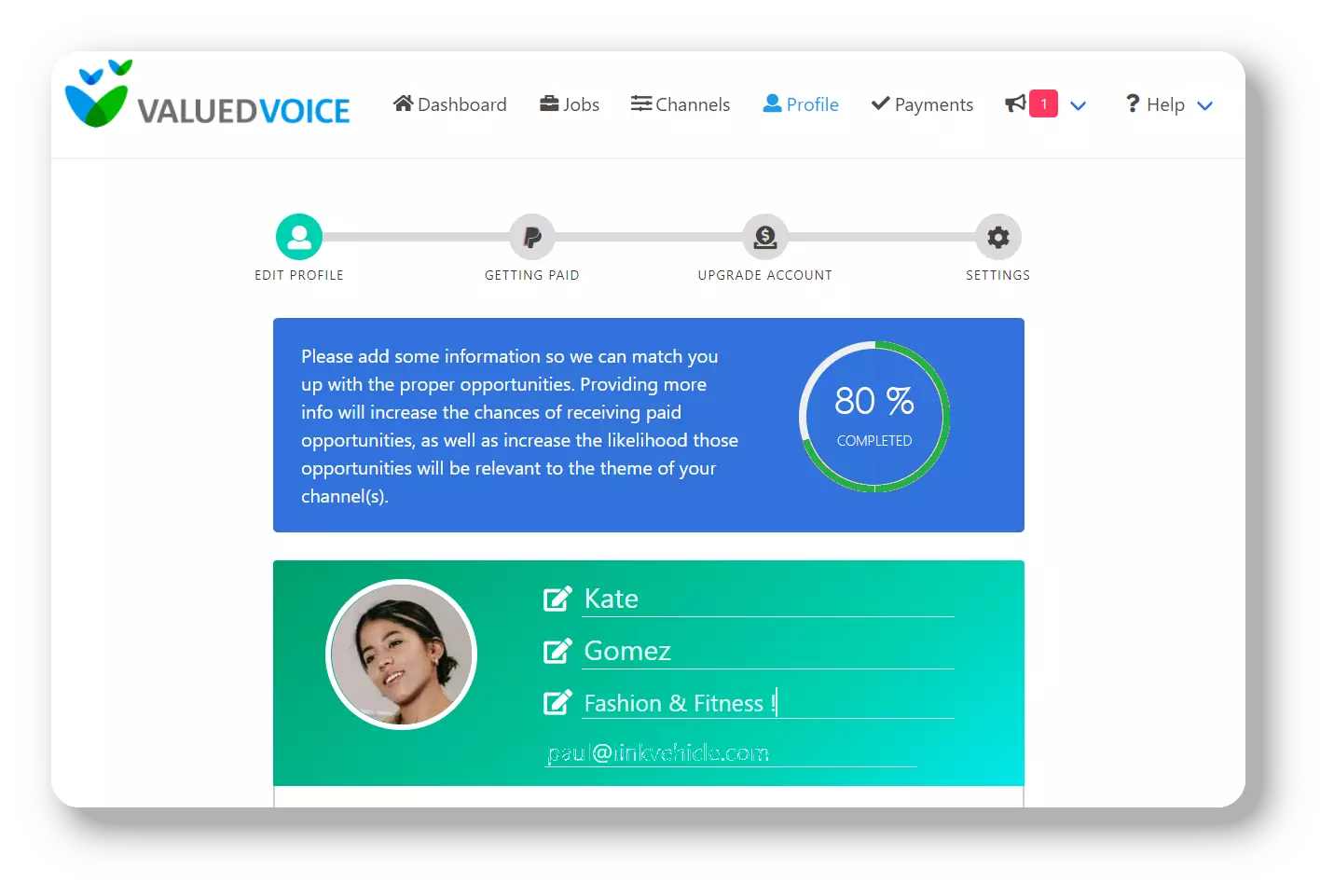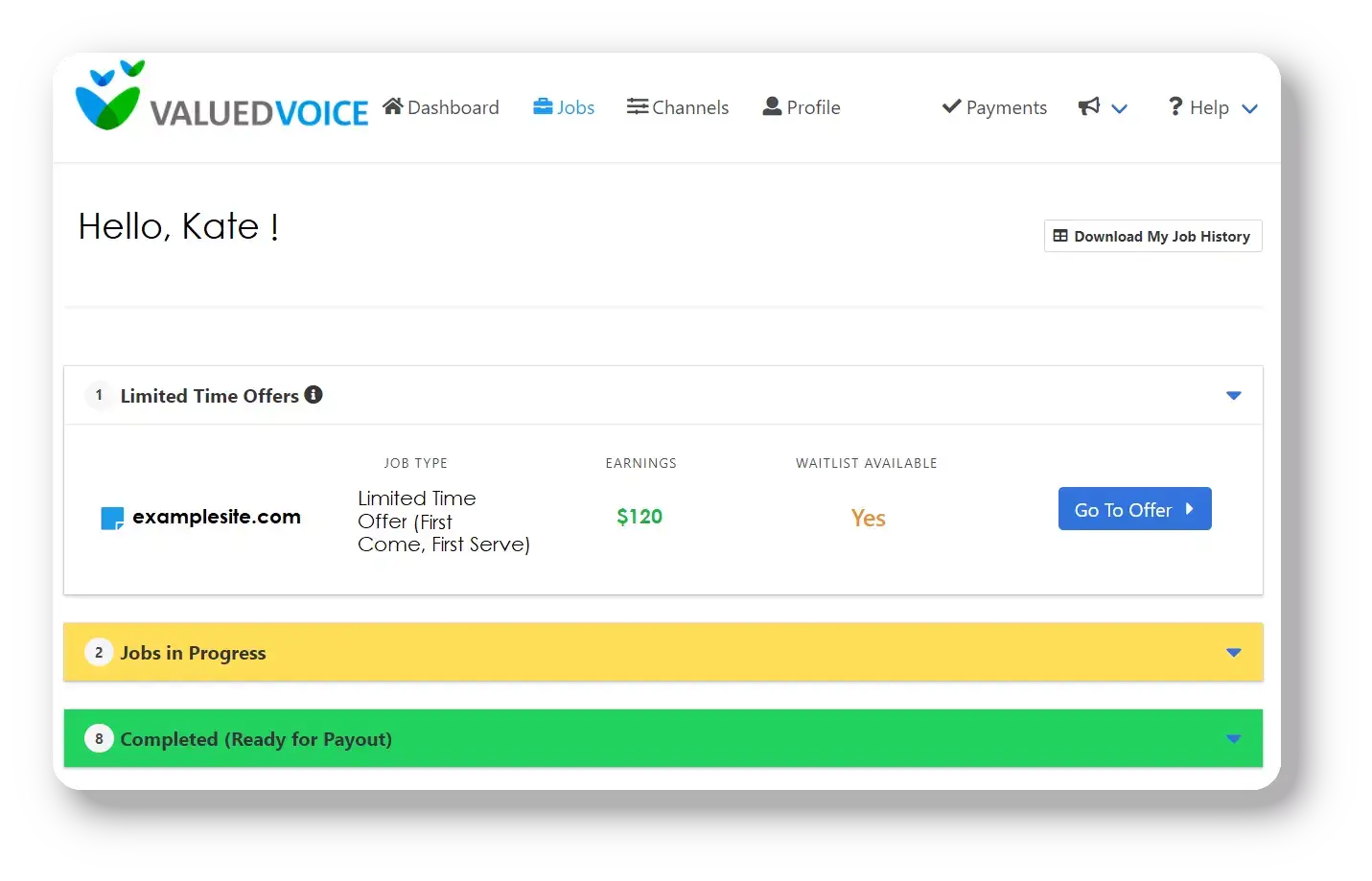 Jobs Board
All of the opportunities we send you will live here. Acccept, manage, and complete opportunities right from this page.

Platforms We Work With
We collaborate with creators and influencers across multiple platforms and all niches!
Verticals
We work with creators and influencers in all niches and categories. Here are just a few popular ones below.
Auto

Books
Business
Career
CBD
Dating
Education
Entertainment
Environment
Fashion
Food

Gaming

Health & Wellness

House & Home

Law

Music

News

Outdoors

Parenting
Personal Finance
Pets
Real Estate
Shopping
Sports
Tech
Travel
Wedding
And More..
What Are You Waiting For? Join over 10,000 Influencers
Create a free account and start earning.
Do you have a great blog?
Check out our guide on monetizing your blog.
Our platform pays you directly to place content for our advertisers. It's a fast and easy way to earn money for something you already do best. Blogging! View our guide to learn more or create an account to start earning now!
"Valued Voice has been an awesome platform to work with. They send opportunities that are relevant to my audience, and I choose the ones that work for me! On top of that, the platform is easy and the payouts are fast. Couldn't ask for more!"

Founder - The Healthy Voyager
"Valued Voice is one of the most reliable ad networks out there. I would highly recommend anyone looking to monetize their blogs to consider working with Valued Voice."

Marquet Media LLC, femfounder.co
"Working with ValuedVoice for the last two years has been a great experience. As a publisher, they have offered me a variety of opportunities to publish unique content that speaks to my growing audience. They connect with me relevant partnerships and clients that I feel proud working with. It's a simple, easy, and transparent platform. Their customer success team has also worked with me to optimize my publishing experience and ensure client satisfaction."

Founder - Bootstrap Business
"Valued Voice has been a great partner for me. What I like best is the ease of working with them. The backend dashboard is simple and easy to use. I complete my requirements and submit them and it's done!"

"Valued Voice provides a professional service and LivingBetter50 has enjoyed working with them for many years!"

"As a healthy, green, and natural living blogger, working with Valued Voice has been invaluable to the growth of my blog. I've sincerely enjoyed communicating valuable content by publishing sponsored posts for many wonderful companies."

Editor & Publisher - UrbanNaturale.com
We love working with awesome people
You have questions. We have answers.
Is this really free? Are there any costs associated?
Yes, it is completely Free to setup a profile, add your channels, and start to receive paid opportunities. We do offer the option of upgrading your account for a small monthly fee, but this is not required. Upgrading your account may result in more opportunities in addition to early payout options. You can view the benefits by going to the Upgrade Account page in your profile.
What brands do you work with?
We work with hundreds of brands and businesses, both big and small, and covering almost every niche. Some of the most popular niches are Health & Fitness, Food & Drink, Home, Fashion, Business, and Tech. As soon as we sell an opportunity for you, you will be provided with the info on the brand that we are looking to collaborate with you on.
How and when do you send payments?
All payments are made through Paypal, so make sure that the proper Paypal email is included in your profile. On the 1st of each month we send out Paypal payments for all opportunities completed the previous month. Depending on your account, you may need a minimum balance to receive this. You can also choose to be paid out as early as 72 hours after completing an opportunity, but a small fee may be deducted based on the type of account you have.
How long will it take to start receiving opportunities?
After you have created your profile and added your channels, we can now start promoting your channels to brands that are looking to connect with influencers in your niche. It can take anywhere from a few days to a few weeks to start sending opportunities your way. As soon as an opportunity has been sold for one of your channels, you will be notified through email, as well as on your Dashboard.
I received an Opportunity. What should I do now?
As soon as you are notified of an opportunity, you should log into your account to view the details of that opportunity since most are time-sensitive. After reviewing the instructions, you can Accept the opportunity, and pick an estimated time of publishing, or you can Reject the opportunity if it is not a good fit. If you Accept, you will have timeframe to complete the opportunity, and you can complete this by confirming the placement on the opportunity details page.
Why am I asked to connect my social accounts?
This will help us to identify you as the owner of that account, as well as to provide public info like followers and engagement. This does not provide access to any sensitive data, or the ability to post on your page.
When inputting my price for an Opportunity Type, why do I see a price range?
For some brands we work with, we need to include a discount to make the offer more attractive. The max discount that we would offer is 20%. Therefore, if you input a price of $100, the lowest you would receive for a direct opportunity would be $80. We want to make sure that you are getting what you need to receive, so if $80 is not enough, we would recommend raising your price to account for any possible discount.
Can you explain what Groups are?
My Groups is a way of grouping blog, social, and video channels that are connected in some manner. For example, if you have a blog called TheIncredibleBlogger.com, and you have an Instagram @TheIncredibleBlogger, which is connected, you should create a group called The Incredible Blogger. This will make it easier for us to present all of your connected channels to interested brands and businesses.
Is there anything I can do to receive more opportunities?
Price is always a big factor in the decision of a brand, so lowering it to a more attractive figure could result in more opportunities. You have full control over this, so if you start to receive a lot more opportunities and want to raise the price, you can do so anytime. Additionally, by upgrading your account to a Premium or Professional account, your channels will be promoted in more proposals to clients, which may lead to more opportunities.
The evolution of digital marketing and social media has led to a demand for more content creators. They're the ones generating endless streams of content as solo entrepreneurs or by working for various brands. If you're having a hard time wrapping your head around the idea of content creation as a career, you're not alone. That's why we've provided this handy guide to clear up your confusion and show you how you could make a living as a content creator.
What is a Content Creator?
There are many different types of content creators. A content creator puts together educational or entertaining material designed to appeal to the interests of a particular audience. An example of that might be a Youtube content creator who posts workout videos to promote their fitness brand. Different types of content creators use various formats to connect with their audience, including:
Blog posts

E-Books

Videos

Photos

Infographics
Today, many major companies use content creators to help with consumer engagement. They may work directly for the marketing team or set up an individual contract where the content creator gets paid for promoting the brand. Major companies also often partner with content creator apps link Valued Voice to be able to easily locate the right creators and influencers for their campaigns.
What Does a Content Creator Do Everyday?
Content creators provide content to different platforms like company websites and social media outlets. Some of the typical daily tasks performed by content creators include:
Brand analysis

— Creators evaluate a brand to understand what they represent. Some of the elements they examine include a company's tone, voice, and design style. From there, content creators use that information to develop content strategies that play to a brand's strengths.

Brainstorming

— Creators spend a lot of time coming up with ideas for creating content that provides desired results for brands.

Research

— The best content creators continually research different aspects of a brand to generate fresh ideas for audience engagement. Great outlets for researching brands include signing up for RSS feeds or reading up on buyer personas for a company.
Digital content creators can remain solo or sign up with a marketing agency. If you're just starting, think about building an online community. That helps you connect with others who have similar interests. Set yourself up as someone who delivers valuable advice and tips. Make your community a place where your audience comes to you as a content creator for answers.
How Can I Become a Content Creator?
If you're wondering how to become a content creator, you must understand what unique value you bring to an industry. Many markets like beauty and fitness already have a lot of content creators providing advice, thought leadership, and general observations about the industry. It's essential that you figure out your niche and how to translate your skills into becoming either a freelance content creator or a digital content creator for a company.
Everyone from a social media content creator to a marketing content creator must understand their audience's needs. In the end, they're the ones who generate income and keep you relevant. The more you showcase your ability to appeal to a specific audience, the more likely you are to attract the interest of brands interested in forming a partnership. The information you should learn about your target audience includes:
The age range of your audience

Where they live

The places where the audience likes to socialize

Whether audience members tend to be single, married, have children, etc.

What digital platforms your audience like to visit

The issues your audience is most passionate about
Once you understand your audience, you need to refine your voice and style. While you should avoid directly copying other content creators, study them to learn what makes them successful. It will take some time to build up an engaged audience, so don't get frustrated if it's slow going at first.
If you're looking to appeal to specific brands, make sure your aesthetic matches what they're looking for in a digital content creator. Companies typically look for someone who aligns with their expectations as far as their mission and values.
How Can a Social Media Content Creator Earn Money?
One of the best ways to earn money as a content creator is by joining content creator app. This is a place where content creators sign up in order to collaborate with advertisers. With Valued Voice, we'll work directly with the advertisers and send you straight forward content creator job opportunities to your dashboard and inbox. There are many benefits to joining such a content creator program and it's a no brainer for anyone looking to leverage their brand and audience.
You can also start building an audience by becoming a Facebook content creator, a LinkedIn content creator, or go with another social media platform. The goal is to establish yourself as an expert in the industry who appeals to a target audience. You can also earn money when visitors click on ads hosted on your platform.
Another way you can make money is by charging your audience for access to exclusive content they can't find elsewhere. For example, you can create general videos and set up a subscription plan to access more in-depth content.
Widening your reach helps you attract brands willing to pay you for posts, videos, or other digital content. That's why it pays to continue looking for new platforms in which to expand your reach as a digital content creator.
How Do I Find Content Creator Jobs?
Our Content Creator App offers content creators the opportunity to take control of their digital marketing careers. On our platform, creators get the chance to pick from multiple job opportunities available through our platform. You set the price and control the kind of content you post. Content creators can receive their first payment in as little as 72 hours after finishing their first job.
Learn more about the benefits of Valued Voice by signing up for a free account.